Thomas More Family Portrait
Below are bibliography and description of the painting.
Don't forget to click on each person in the painting for more details!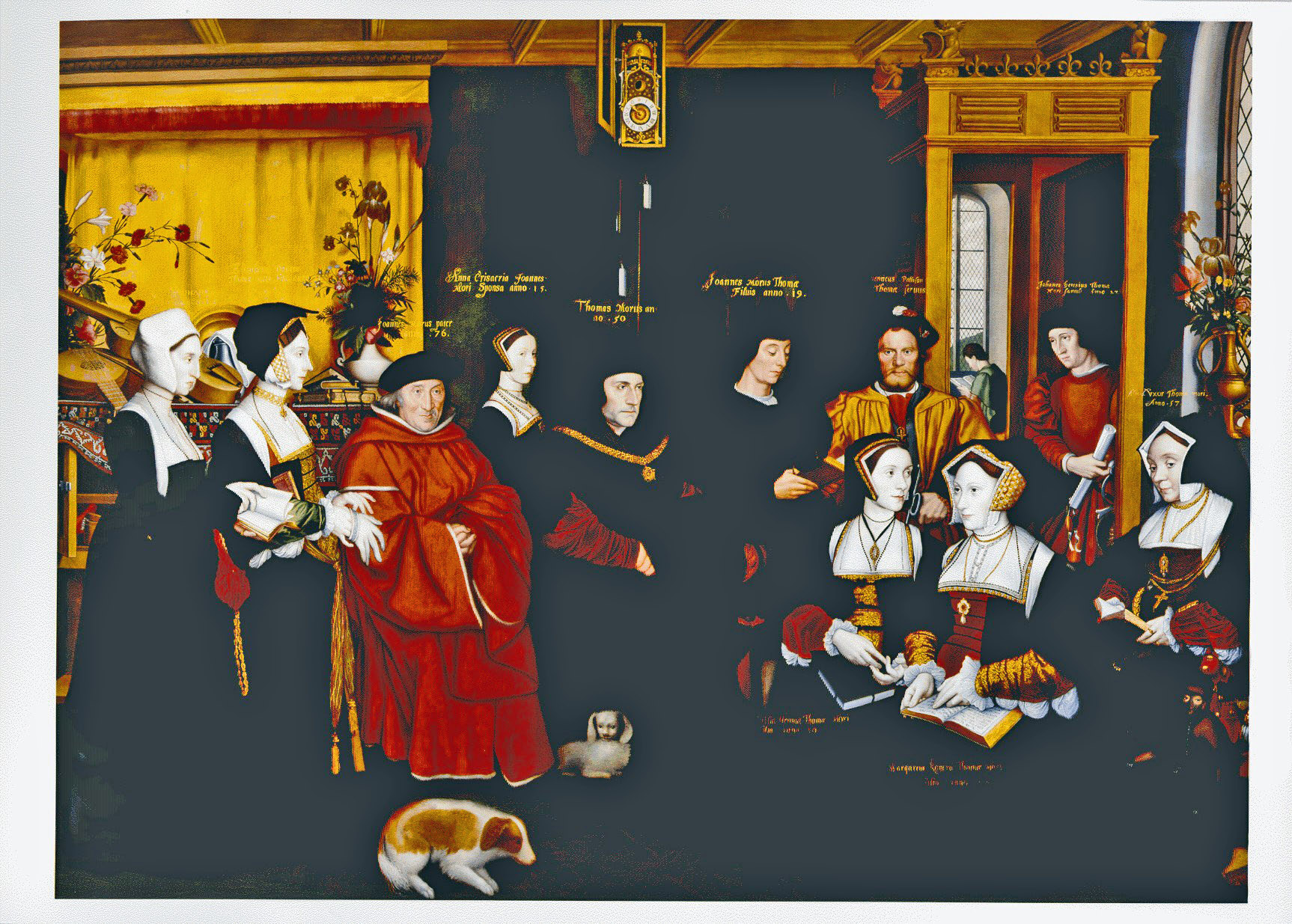 Lady Alice
57 years old
Sitting in a richly ornate chair, ready for action and giving a knowing glance in our direction, she holds a prayer-book with a beautifully bejeweled, deep-green velvet casing. This small gold-edged book matches the small gold-edged books held by young John and by Margaret Giggs.
John Harris
27 years old; More's secretary
John Harris, More's secretary, stands in the doorway with an official document in hand, as he glances attentively at More.
Margaret More
22 years old
Margaret Roper – the eldest child of this London family is presented as a woman sophisticated in the ways of the world in several ways, including her spectacular dress. She is so richly dressed, in fact, that one must wonder why. Why do her jewels far, far surpass those of her mother, her sisters, and her wealthy future sister-in-law's? Margaret's headpiece and gown display scores of pearls or pearl shaped stones while Elizabeth's has fewer than ten and her mother even fewer than that.

Margaret is pointing to a specific word in arguably the most important choral scene of Seneca's Oedipus.

Cecily More
20 years old
Cecily is holding the largest book in the painting, possibly the 1515 collection of Seneca edited by Erasmus while in England and while visiting Thomas More and his family.
Elizabeth More
22 years old
Elizabeth has Seneca's Epistulae under her arm rather than a prayer book.
Two dogs
added several generations later!
Two dogs
added several generations later!
This painting hangs at Nostell Priory in Wakefield, England. See Lesley Lewis's The Thomas More Family Group Portraits After Holbein (Gracewing, 1998), p. 13 esp. Angela Lewi's The Thomas More Family Group (London: Her Majesty's Stationery Office, 1974), pp. 5-7, and Ruth Norrington's The Household of Sir Thomas More (Buckinghamshire, Eng: The Kylin Press, 1985).
Although the painting has the signature of Rowland Lockey (1565/7-1616), it is dated 1530 and the linen canvas dates back to the 1520s. Recent studies indicate that Holbein probably began but never finished this more permanent oil version of the water-based painting that he had completed c. 1527. The water-based ("distempered") original perished in a fire in 1752. The worldly fruitfulness of this family is stressed in this painting. Margaret and Elizabeth and Cecily are pregnant with the next generation. This fruitfulness is emphasized by the presence of the fruit dish and ripe apple on the window sill on the right, and by the abundance of flowers in the room.The flowers, along with the musical instruments and crowded intimacy of elegant "family-togetherness," connote a sense of worldly beauty, harmony, and happiness. The room is marked by warmth of color, including the carpet of green rushes. The other books identified in this painting are: (1) Boethius' Consolationis Philosophiae and, (2) under Elizabeth's arm, Seneca's Epistulae, which comprises 124 letters addressed to young Lucilius and expresses "ardent concern for the journey to wisdom" (Motto 1973, p. 54). The classical books identified in the painting suggest a common theme, the theme of happiness: its nature and its possibility in this troubled and stormy world.
In the Nostell Priory painting, there is not one cross, but four. In addition to Lady Alice's ornate crucifix, Henry Pattenson is wearing a simple one around his neck, and he has the red cross of London on his cap. Elizabeth also has a beautiful cross surrounded by pearls hanging from her neck. The painting includes strong elements of Renaissance humanism combined with elements of Christian piety.
Source: 102 Moreana Vol.45, 173 (June - Juin 2008)